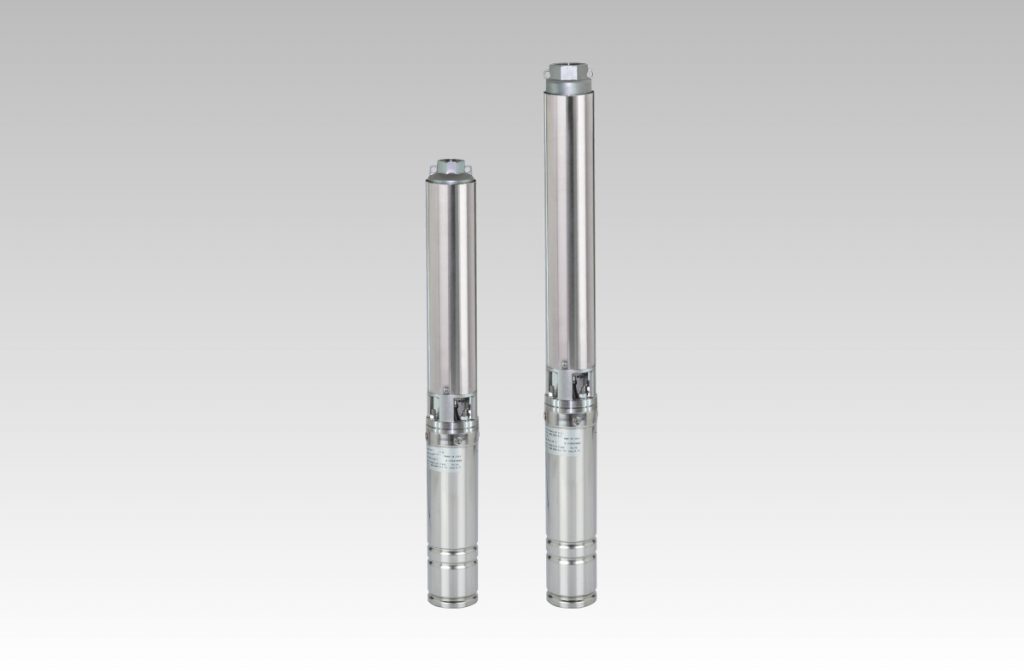 Construction:
Submersible borehole electropumps for 4" wells (DN 100 mm), with external jacket in stainless steel AISI 304 and impellers in Noryl.
Radial floating impeller with high reliability operating in sandy water.
Connection: screwed connection G 1 1/4 – G 2 ISO 228.
Delivery casing with built-in non-return valve.
Applications:
For water supply.
For civil and industrial applications.
For fire fighting applications.
For irrigation.
Operating conditions:
Liquid temperature up to a 35 °C for 4" motors
Max. sand quantity into the water: 150 g/m3 (300 g/m3 high percentage of solids and sand).
Continuous duty.
Rewindable motor 4MS series:
2-pole induction motor, 50 Hz (n ≈ 2900 rpm).
Sized for connection to the pumps according to NEMA Standards.
Standard voltages:
– single-phase 230 V up to 2,2 kW for 4" motors.
– three-phase 230 V; 400 V, for 4" motors.
Voltage tolerance : +6% / -10%.
Insulation class F.
Motor suitable operation with frequency converter.
Protection IP 68.
Special features on request:
– Other voltages.
– 60 Hz frequency.
– Other temperatures.